I started my research with a Heuristic Evaluation of the existing website. I used

Neilson's Heuristics

methodology and sorted each violation by its severity to help me solve problems quickly and efficiently.
MeUndies is an online subscription-based underwear and loungewear brand that makes garments for men and women. The company prides itself for providing excellent service and high-quality products. The goal for MeUndies is to promote body positivity, diversity and Individuality through their products.
MeUndies is looking for a new innovative way to attract customers who only shop for underwear and other apparel exclusively at brick-and-mortar stores and are still reluctant to explore online e-commerce options.
By creating an AR experience, shoppers will be able to see what a product would look like on their body type without having to go to a store. In result, MeUndies will gain a bigger fan base and a higher revenue.
Comparative and Competitive Analysis
To understand how MeUndies brand compared to its direct and indirect competitors, we conducted a C&C analysis. We compared a wide range of features before narrowing our scope to focus on body positivity, individuality, and diversity.
C & C findings:
TomboyX, which shares the same vertical business model, appears to have very similar core values.
Victoria's Secret, the United States' #1 brand in the underwear industry, has very limited diversity representation on their e-commerce website and social media.
Reaching out to the users
We proceeded to create and conduct user surveys. Through the initial online research, we found out that:



50% of underwear buyers said that they shopped in a store
When they buy underwear, they are generally

purchased in quantity

.
The most important factors for users were fit and price.
After gathering the survey results my team and I crafted a list of

interview questions

to gain a deeper understanding around users' shopping habits.
Following the interviews, we synthesized the information we gathered to create an

affinity map

which helped us identify user trends.
"Texture is really important. Part of needing to buy items at the store is about feeling all of them."




-S.W., School Teacher





"The only reason why I buy underwear is because I feel like I don't have enough."




-A.H. Graphic Designer





"I like that I can get it that day."




-T.H., Full-Time Caregiver



We discovered that the users want to shop at brick-and-mortar stores for two main reasons:

tangibility

and

immediacy

. Their shopping experience is tied to

utility

and

need

.
At this point we realized that MeUndies price point was an unexpected deterrent, so we decided to

refine our target audience

. These users shift their spending habits depending on priorities and think of underwear as more closely aligned to

athleisure and fashion apparel.
After conducting another round of

online survey

and

user interviews

, and consequently creating a new affinity map, we discovered that the users are not just interested in simply buying things because they need them, they are interested in the

experience of buying.
We concluded that shopping experience

for

these users:
​
I

s a social activity
Is a form of therapy
Provides instant gratification
"I normally just buy things and then try them on at home and if they don't fit, I return them."
​
"I'm a big returner because I like buying things and that satisfies the need."
​
"I meet my friend and we just walk through and I don't even have a goal in what I want to buy... And I end up spending more than I expect."
Based on all of our research findings and interviews, I created our

User Persona.
Jessie's often left uninspired with the same old shopping experience at brick-and-mortar stores. She wants to find a fresh new way to experience the social and entertaining aspect of shopping without having to go out.
Jessie's journey map shopping at brick-and-mortar stores
Keeping our

persona

and

business goals

in mind we ran a

design studio

to structure the key features and components of the app. Customization and a playful unique experience were prioritized as critical elements for connecting with our persona.
Early sketches were focused on emulating and improving the traditional dressing room experience, but later research showed our target audience prefers to purchase and try items on at home as a hack to avoid dressing rooms.
So, we adjusted our paper prototypes to focus on providing a humorous dress up experience using avatar selection based on MeUndie's special edition prints including Star Wars.





The avatars could be adjusted in size and color, allowing for a unique interactive experience that would be more memorable than a regular dressing room.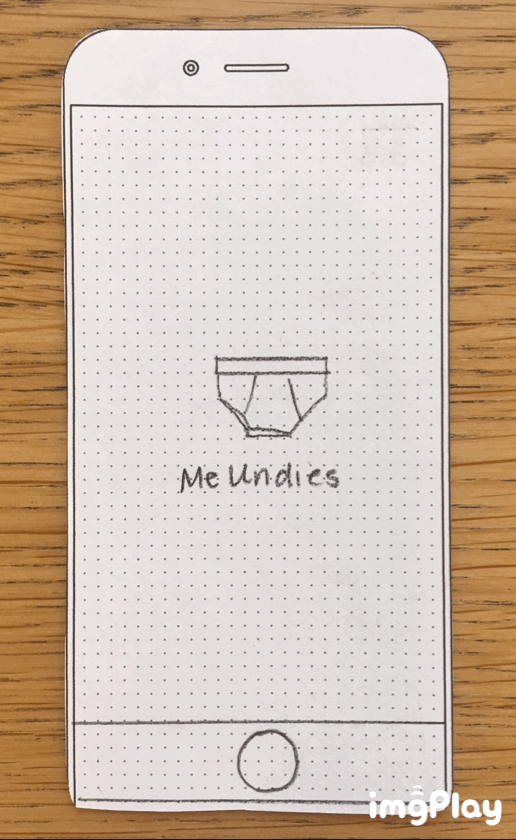 After multiple rapid iterations and usability tests, we discovered that the users were delighted by the customization options and conversational selection feedback.





On the other hand, users were confused about late-stage menu navigation, finalizing their avatar and sharing options.
Visualizing the User Flow
Staying in line with MeUndies' customer acquisition plan, we eliminated

shopping cart

and direct-buy options in the current flow to emphasize the first-time experience interacting with MeUndies.



Instead users are given a constant entry point to the MeUndies website and can link directly to the product page for the product they've placed on their avatar on the shared screen.
We made the necessary changes and jumped into Sketch software to create


high

fidelity wireframes

for more usability tests.
Again, we tested and iterated our design to deliver the final product. We used Principle software to make our prototype completely interactive.
The usability tests revealed that users were delighted with the unique interactive experience. We also learned that the users wanted to have the option to purchase the full line of MeUndies products directly from the app.
Build the e-commerce feature to allow users to purchase within the app
​​
Give users the option to take a selfie and add their own face to any avatar.
Add more customization options and interactivity to increase user delight.